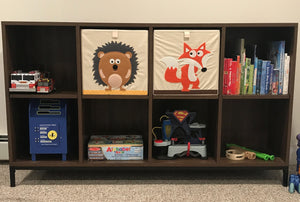 A Playroom Makeover
Guest blog post written by: Jenn S. from SimplyOnEden
{Collaboration between SimplyOnEden & Hurricane Munchkin}
I love working with clients to help organize their homes but nothing is more fun for me than a play space. I love crafting a space for young minds to flourish and develop. When I can create a space that is also easy to maintain and nice to look at for parents, it's a true treat.
I recently was asked to come in and organize a playroom for a client with a 2 & 4-year-old.  Their play space was adorable and full of so many fun toys and books. She wanted me to create a space that would encourage collaboration between the two brothers and free up some space with the impending Christmas gifts come December.
Organizing a playroom is quite simple, but it is certainly time-consuming. This room took me a total of 4 hours and turned out spectacularly. I am so excited to walk you through my process here and show you their fun new space. When organizing a playroom, there are 3 simple steps, all equally important. If you do it to completion, the results can really change the vibe in your home!
Here is the play space as I found it.  As you can see the children are so lucky with so many fun things to play with but the space is very busy and needs some room for their activities. I grabbed some plastic bins, garbage bags and a coffee and set of to work!
Find & Sort
Before you can figure out what to keep, you need to see what you are working with. For example, often we think puzzles are a lost cause, with too many pieces missing when we really just need to locate them. I believe all the toys should be pulled into one room before you can truly go through the toys. You'd be surprised what you'll find under the couch cushions! This client went ahead and pulled everything into the playroom for me to be able to thoroughly go through what was missing pieces.
At this point, I start to sort all of the toys. While the most time-consuming part, this is essential! I like to just make piles on the floor for sports, action figures, legos etc. Take each item and categorize it. I was able to find missing pieces to both puzzles that they had in the playroom by sorting through every item. I also tend to pull broken toys out and put them in their own pile from the start. Usually, parents ask me to purge anything that is broken and can't be used or donated. Once the broken pile and the categories are complete its time to start simplifying!
Purge or Keep?
If your goal is an organized room where your kids love to play, it's important you keep toys they want to play with, or will soon. There may be toys that the kids just don't care for, or have outgrown. Similarly, if you have three toys that teach the same concept, maybe pare it down to one and donate the others. Often times, if we haven't done a big purge lately, there are more toys than we want to clean and they even play with so this second step is where the minimizing magic happens.
When working in someone else's space, I bring the client in to help me make these decisions. We went through each pile and decided what we should keep, toss or donate. The broken toy pile should be thrown away for safety but most things you decide to purge should be wiped down and brought to a donation center.  Women's shelters, Goodwill type drop-offs, even some churches, and preschools take gently used toys. Once we picked what we wanted to keep and what had to be thrown away, the rest was boxed up for me to donate. Speaking from experience, there is no better feeling that the one you have when you look at your playroom after you've removed the trash and donations. So much space!
Organize
Now comes the fun part! Organizing the play space allows you to create an aesthetically pleasing area that inspires creativity and learning in your children. I like to invest in organizing but only after you've thoroughly purged. At this point, you can take a look at the space and the remaining toys to figure out what you need to best keep things organized.
I decided to style the shelves simply as the parents in this home wanted things to be visible and simple to clean. Books, cars and musical instruments were kept in their own cube as these are three of their most used items. For the dress-up and legos, we used a few beautiful Hurricane Munchkin boxes. This keeps all the pieces together and makes clean up easy.
If you haven't used Hurricane Munchkin, you need to! Their toy storage boxes are sturdy and keep their shape beautifully, even with little ones pulling them in and out all day long. The designs we chose were the favorite animals of the boys, although you can find over a dozen different designs to create your perfect space. The felt applique is stunning with incredible detail that really stands out compared to the competition. The playful nature of these bins, coupled with the functionality and quality makes them the perfect choice. Mom was so happy with how they looked inside the cube shelf and the two boys absolutely loved them!
In the end, the playroom became a place with lots of space to run and play. They decided to purge a lot of toys knowing Christmas was around the corner so keeping things very simple was our goal here. Mom says she may need a few more of these bins come December 26th but is thrilled with how happy her boys seem in their space full of their favorite things.
---