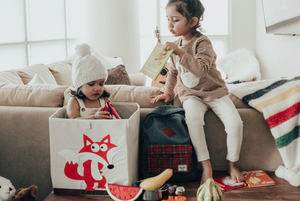 Lets Tidy Up! Zootopia Style
Our guest blog this month is written by lovely Daniela, a voice behind dreaminginsatin, where shares tips on fashion, life style and decor. You can read the original article on her blog.
In the months leading up to my due date I spent a lot of time organizing and decluttering our home. Especially the girl's room which not surprisingly fills up with SO much stuff! Come Christmas time and it's a full takeover of toys and clothes. We live in a small apartment downtown so emptying out a drawer, or freeing up some hanging space makes all the difference!
I'm a big fan of storage bins! I love getting them for our closets because they truly give the illusion of having so much more space. It's all about functionality and having a designated place for everything. Those who know me know how happy having an organized home makes me, so when Hurricane Munchkin approached me for a collaboration, I was excited about adding another organizational piece to our home!
But having an organized home is half the work. The other half is making sure it stays tidy and getting our kids to help out makes all the difference. We have two tricks that work for us when it comes to clean up time. The first is setting up the expectation before they start playing that everything needs to be put away once they're done. When we reinforce this behaviour consistently and we're there to lend them a hand if they need us, its easier for them to pick up the habit.
The other trick that has worked for us beautifully is showing them exactly where their toys belong. When kids don't know where things go they are apprehensive about putting things away. This is why we love toy bins because they simply throw everything in and call it a day. In our house we like to invest in sturdy, non-plastic storage bins because we value functionality and aesthetic.
The girls were stoked to receive this particular bin with the fox because it reminded them of Nick- the Fox from Zootopia, one of their all -time favourite movies. The felt appliqué is beautifully done and adds a fun appeal to their room. When it's not carrying all their favourite toys, Zasha likes to turn it into a home for herself from time to time and I gotta say it's still holding it's shape amazingly well. You can check out all their fun designs and other storage solutions at hurricanemunchkin.com and trust me, you'll be happy you did!
---